5 Things to Do When You're Bored During the COVID-19 Crisis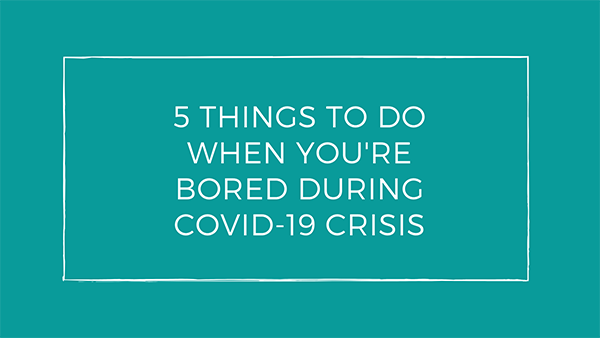 Many people are bored stiff as they stay at home with the shelter in place order.  Here are 5 things to do when you're bored during the COVID-19 crisis.
Explore your creativity.
Look for the creativity within you.  If you've never thought of yourself as having an ounce of creativity, then look again.  It's inside there somewhere.  What interests you?  Do you have a hobby?  Have you ever done anything with your hands?  What about learning to sew or maybe cook a new recipe.  Other ideas might be woodworking, crafts, gardening and creative writing.  Maybe now's the time to begin journaling and write down some of your thoughts and feelings.  If you don't feel like doing anything else, read a book.
Get out and work.
I don't mean go to your job.  We are in a stay at home shelter in place situation, but we can all get up off the couch and work at something.   There is so much self-satisfaction in working to accomplish a task.  It reduces depression and give you a feeling of pride PLUS you get something done that needs to be done.
Take an online class.
The sky's the limit in the available opportunities you have in front of you with the Internet to educate yourself.  Do you need some additional training to get a promotion or even a new job?  Are you interested in changing careers or are you interested in learning something new like playing the guitar?  No matter what you are interested in, there is a wealth of knowledge just waiting for you with online classes, webinars, YouTube videos and podcasts.  Many of them are free and very low cost so there's no excuse for boredom!
Take a break from the noise.
Turn off the tube and cell phone.  One thing about staying home is that it gives you some time to ponder.  When I was growing up, we had time after school just to sit in our room and think.  With so much noise in our lives these days, there is never a quiet moment and we no longer have the opportunity just to be quiet and think.  The Bible even talks about being still.  "Be still and know that I am God." Psalm 46:10. Without ever being quiet, we don't give God the opportunity to speak to us.  Take a few moments each day to think and listen.
Get outside.
Make it a point to go outside every day.  There is so much healing that can take place by just spending a few hours outside.  Enjoy the scenery.  Have a cup of coffee on the porch.  Take a walk.  Plant a flower.  Listen to the birds sing.  We're all probably a little Vitamin D deficient because we spend so much time glued to the tube, phones and computers so take a break away.  Enjoy some of that wonderful sunshine and get a new lease on life!
5 Things to Do When You're Bored During COVID-19 Crisis
It's been a long time for many of us since we've spent this much time at home.  The COVID-19 crisis is forcing us to stay at home more and we might find that we like home much better than we thought.  Home is our haven.  Home is where our family is.  Home is where the heart is.  Sometimes, we forget what true living is supposed to be like.  Even though COVID-19 is having a devastating effect on our economy, our budget and bank balance, it is truly a God-send to have a little more time at home and a little more time to think.
There is a wealth of opportunity just waiting for us to explore through COVID-19 and tons of ways to exert our creative juices so have fun with it now.  We can all work on recovery together and celebrate, once the pandemic is over!
Learn more about COVID-19, please visit www.coronavirus.gov. 
About the author:  Dona Bonnett is the owner of adr Business & Marketing Strategies and provides web design and other small business services to help companies.  To learn more, contact Dona at 256.345.3993 and visit www.adrBMS.com.
#COVID19  #coronavirus  #inthistogether  #stopboredom