adr Business & Marketing Strategies Chosen MACC Business of the Month
PRESS RELEASE FOR IMMEDIATE RELEASE
adr Business & Marketing Strategies received the honor of being the October Business of the Month for the Moody Area Chamber of Commerce. Dona Bonnett, business owner, was recognized with a framed certificate presented by Brent Earnest, chamber President. Dona had the opportunity to talk a few minutes about what services her local business provides.
adr Business & Marketing Strategies Chosen MACC Business of the Month
Her company helps companies grow with a number of small business services. Dona provide affordable websites, marketing coaching, Internet marketing services, copywriting, professional photography, video productions and more. As you know, she am always promoting a business or organization in the area, because she feels that it is important to "get the word out" and Dona loves to connect people.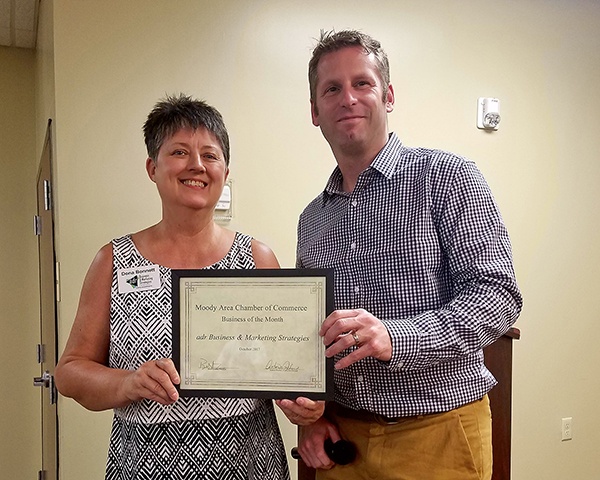 Many people in St. Clair County do not know about all of the wonderful companies, organizations and events that we have right here. We don't have to go to other cities and counties for what we need…it's all right here! As well as being the MACC Business of the Month, Dona also had the opportunity to be the guest speaker at the Ashville Chamber of Commerce meeting last week. If you would like to know more about Dona Bonnett and adr Business & Marketing Strategies, please call (256) 345-3993.