Internet Marketing & Social Media Workshop
adr Business & Marketing Strategies is pleased to announce an Internet Marketing & Social Media workshop hosted by the Leeds Area Chamber of Commerce scheduled for Tuesday, August 17 from 8:00 am until around 10:00 am.  This workshop will be held at the Leeds Municipal Annex located at 1400 9th Street.
Dona Bonnett, Marketing expert will share vital information from basics to what's new in social media and Internet marketing in this small business workshop along with some strategies to help you in your business.
This is a great workshop to bring some of your staff as well as business owners and managers.
You do not have to be a chamber member to attend this free workshop.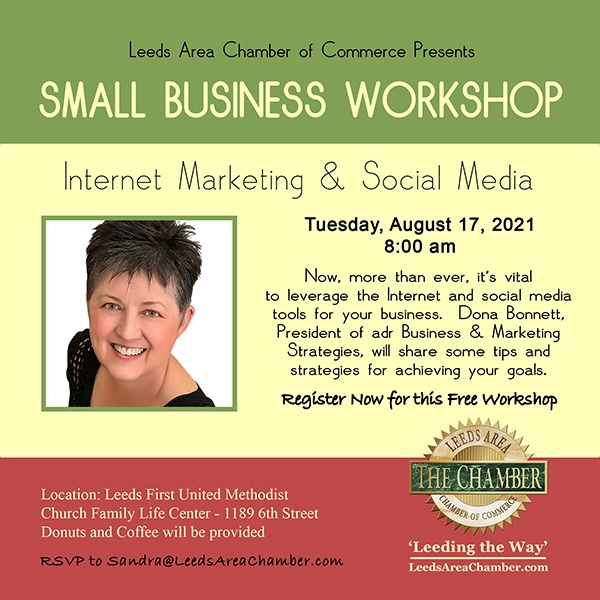 Be sure to RSVP to ensure proper handouts and refreshments.  Complete the registration form below or contact Sandra McGuire direct at 205.699.5001 or Sandra@LeedsAreaChamber.com to make your reservation.
Register Here for Small Business Workshop
#smallbusinessworkshop #internetmarketing #socialmediaworkshop #leedsalabama #leedshappenings #leedsareachamber #chamberofcommerceworkshop