I had the opportunity to attend the Partnership Summit yesterday as a representative supporting the Leeds and Moody local Chamber of Commerce groups.  This was the first of four events scheduled for 2015.
We had some great round table discussions, a great lunch and keynote speaker who was Joe Morton, Ph.D., Chairman and President of the Business Education Alliance of Alabama and Former Alabama State Superintendent of Education.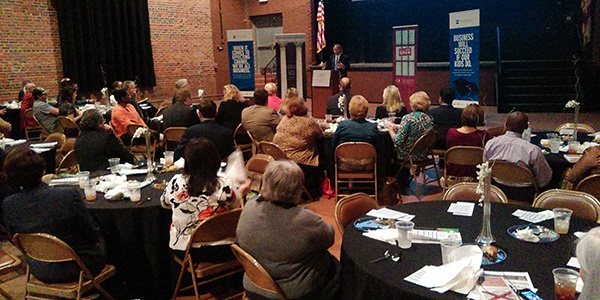 It was really eye-opening to hear ACT testing state-wide with the percentages of students actually college ready upon graduation and look forward to the work being done to improve the achievements of young people graduating high school in Alabama and going on to college or into the workforce.
This event was hosted by the Chamber of Gadsden/Etowah County and sponsored by the Chamber of Commerce Association of Alabama (CCAA) and the Business Council of Alabama (BCA) Partnership.
I enjoy local Chamber of Commerce work because of the impact that it has on our community and enjoy attending these type of workshops.
The local Chamber of Commerce is the public relations and marketing non-profit organization which supports our local area and business community.
I am very excited about the area Chamber of Commerce organizations working together on projects.  The Leeds Area, Moody Area and Pell City Chamber of Commerce Executive Directors worked together with the St. Clair Economic Development Council and Jefferson State Community College to host a Job Expo last week that was a huge success.  Over 400 job applicants attended the expo and the companies who participated were very pleased.
Photos were taken with my cell phone.
---
Dona Bonnett is a business and marketing coach and consultant who specializes in helping companies grow. For more information on how Dona can help your business grow, please visit her website at www.adrBusinessMarketingStrategies.com or contact her at 256.345.3993.