Premier BNI Moody Hosts Free School Supplies Giveaway
Premier BNI Moody Hosts Free School Supplies Giveaway.  We had a great time at the Premier BNI Moody Free School Supplies Giveaway held this past Saturday, August 10, 2013 on Park Avenue next to Moody City Hall.  This was an awesome event and thank you to everyone who made this event possible.
Here are some photos and a copy of the Press Release: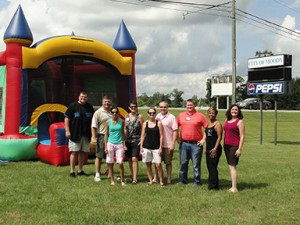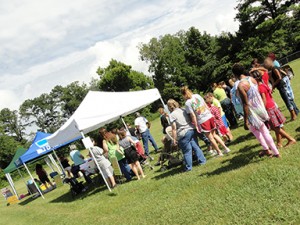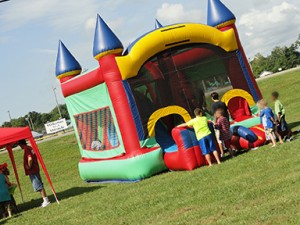 August 11, 2013
CONTACT: Dona Bonnett, Owner
dona@adrBusinessMarketingStrategies.com
256.345.3993
PRESS RELEASE                                                                                                    
FOR IMMEDIATE RELEASE:                                                                                             
Premier BNI Moody Hosts Free School Supplies Giveaway
Moody, Al– Premier BNI Moody hosted a Free School Supplies Givewaway this past Saturday, August 10, 2013 on Park Avenue next to Moody City Hall.  This event was free and open to the public to anyone with school children regardless of the school they attended.
150-200 families received were helped with a small bag of free school supplies including rulers, paper, pencils, glue sticks, etc. The children also enjoyed free entertainment with a party inflatable.
One of chapter members, Penny Parker with Reliance Technologies, Inc. had the idea only a couple of weeks ago and the Chapter put this event together in record time with the help of other local businesses who participated.
The local business sponsors who made this happen were Penny Parker & Tom Townsend-Reliance Technologies, Inc., Greg Nelson-Storm Restoration Roofing, Dona Bonnett-adr Business & Marketing Strategies/A Digital Reflection Photography & Videography, Josh Vernon Realtor-Remax MarketPlace, Laura Robinson-M & M Jewelers, Kim McNeeley-MLS Direct Network, Pam Sessions-Serenity Spa & Tanning, Brandon Green-Southern Tool Equipment & Party Rental, Jamey Reynolds-Foote Bros. Carpet One, Rachel Humphreys-Alpha Insurance, Julie Moore-HomeTown Mortgage Services, Inc., Jesse Frederick-DualEdgeWorks Computer Experts, Marisa Reali-Body by Vi, Dawn Ramey-Regions Bank, Dawn Moore-Land Title Company, Mickey Thomason-The Nelson Team, Sam's Club and Wal-Mart.
We would like to express a special thanks to everyone who coordinated, worked and contributed to this special event.
Plans are already underway to coordinate an even bigger project with more supplies, more sponsors and more entertainment to help many more families next year.
If you are a local business and would like to make a donation of money, school supplies or time to be a part of next year's event, please contact Penny Parker at 205-640-2625 or Dona Bonnett at 256.345.3993.
Premier BNI Moody is a local chapter of Business Network International (BNI) which is a world-wide business organization that helps businesses grow through referral marketing.  If you would like more information about BNI or visit a chapter meeting, please visit our website at http://www.bnialabama.com/premier-bni/ or contact Chapter President, Jamey Reynolds at 256-452-2240 or Vice-President, Josh Vernon at 205-661-0811.
# # # # #
The Premier BNI business networking group meets on Thursday mornings at Moody City Hall with a structured agenda to increase business with referral marketing.  This is a new chapter which began in late April and has already passed over $180,000 worth of business to members.
---
Dona Bonnett is a business & marketing coach and consultant specializing in business start-ups and companies that would like to grow.  If you would like to talk with Dona to see how she could help you and your business, please contact her at 256.345.3993.