Dona Bonnett Receives President's Award
It was such a surprise and an honor to receive the President's Award by Dr. Rick Palma, President, at the Leeds Area Chamber of Commerce Annual Awards Luncheon this week.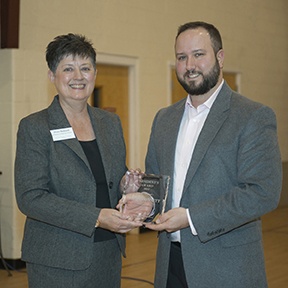 I am just a small part of an awesome team of business professionals working together on Chamber of Commerce teams to support our local businesses and community and appreciate the opportunity to serve.
Thank you to the Leeds Area Chamber of Commerce for presenting me with this prestigious award!
President's Award
I would also like to congratulate Christy Ellard with Chick-fil-A for being chosen Ambassador of the Year, Scott Pellowski – State Farm for being chosen Business of the Year, Leeds Lions Club for being chosen Non-Profit Club/Organization of the Year and Toby Banks for being chosen Citizen of the Year.  You guys are awesome and are very deserving of these awards!
View Leeds Area Chamber of Commerce Awards Luncheon Blog Post & Photos
---
Dona Bonnett is a business and marketing coach and consultant who specializes in helping companies grow. For more information on how Dona can help your business grow, please visit her website at www.adrBusinessMarketingStrategies.com or contact her at 256.345.3993.