10 Ways to Support Your Local Business Community Through this COVID-19 Pandemic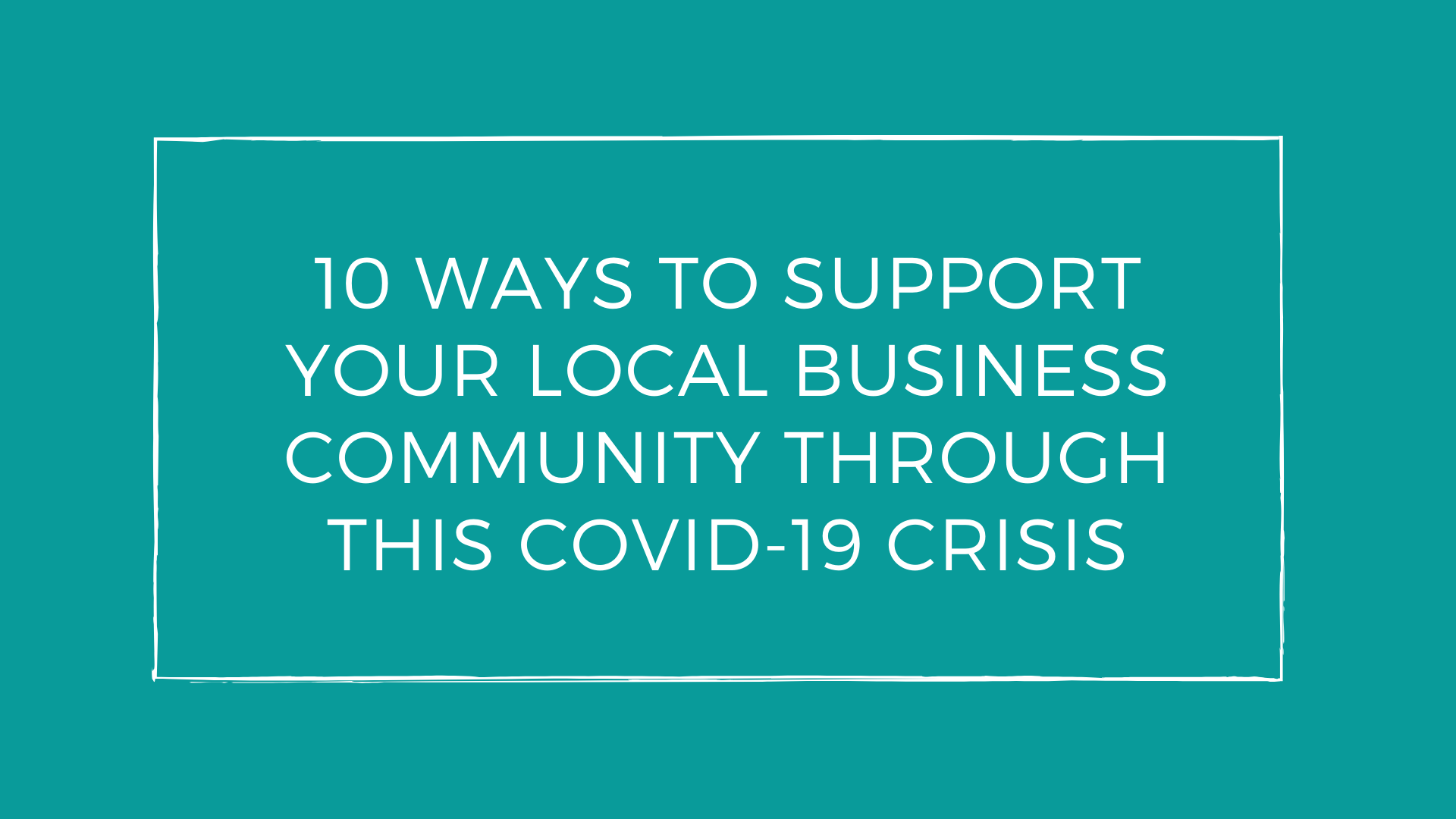 As small businesses continue to shut their doors and limit operations while still trying to serve the public, we all need to seek out ways that we can better support local business through this national crisis. Here are 10 ways to support your local business community through this COVID-19 pandemic.
1) Shop local as often as you can. With store shelves empty of necessities, most of us have been forced to look online and elsewhere for those items, but don't forget about our local businesses. These guys are the ones who contribute to your band boosters, youth sports leagues and more. They give back to our community on a regular basis. Now is the time to show our support!
2) Take-out orders, curb service and delivery for local restaurants are great ways to support your local restaurants while keeping your family "in some grub". Even if your local storefronts are not open to the public, they may be serving customers by appointment and curbside. If you need something, pick up the phone and call them or send a message on social media to see how you can make a purchase.
3) Purchase gift cards and gift certificates, if your local business is not currently open to the public or you don't need anything, to support them now and you can use them when the business reopens. When restrictions are lifted, shop local.
4) Connect with local businesses on social media. Like their page on Facebook, Follow them on Instagram and Twitter.
5) Like, Comment and Share posts on as many local businesses as possible on a daily basis. This will help their message get out to more people. This is the least we can do while we cannot shop with them.
6) Write a Google Review. Make it a point to write at least one favorable Google Review per week and more if you can. Pick your favorite companies first and then work through your list. If you've never done this before, log onto your Google account and search for a local business, the search results should bring up the Google business listing on the right of the page. Scroll down until you see Reviews and click on "Write a Review".
7) Write a Facebook Review. Also, don't forget about Yelp. Make it a point to write a favorable review regularly on Facebook as well as Yelp. The more reviews you can write, the more local small businesses you can help!
8) Never criticize ANY business on social media or the Internet. Please do not air your unhappiness, bad service, product issue or whatever it may be. Also, don't fall prey to negatively comment on other people's negative posts. Always write favorable on the Internet and go offline to air your complaint directly with the company. How can you expect for your problem to be resolved if you never go to the person or the company that you are having the problem with? They may not even know about your issue, unless you bring it to their attention and they will appreciate your professionalism by dealing with them directly instead of being part of the force that drives them out of business. It only makes you look bad and it is a reflection on your character when you moan and complain in public about others.
9) Make appointments for later in the year rather than cancelling altogether. This lets your vendors know that they are still on your list and you still plan to do business with them, even if you can't right now.
10) Send a word of encouragement. We all need encouragement right now and we're in this together. Your local business community needs you now more than ever! Let them know you are thinking about them. Send a personal note, a card, an email or a social media message. Make someone's day!
10 Ways to Support Your Local Business Community Through this COVID-19 Pandemic
This COVID-19 crisis is affecting everyone in a negative way, no matter who you are, and we don't know how long it will last. Small business is what has built this country. It is the backbone of our economy. We need every small business to stay in business so they can continue to supply our local goods and services. It is imperative that we all stick together and support each other financially and emotionally. When this crisis is over, we can all celebrate together. In the meantime, let's "hunker down" and do this thing!
Learn more about COVID-19, please visit www.coronavirus.gov 
About the author:  Dona Bonnett is the owner of adr Business & Marketing Strategies and provides web design and other small business services to help companies.  To learn more, contact Dona at 256.345.3993.
#COVID19  #coronavirus  #inthistogether  #localbusiness   #smallbusiness