Together Each Achieves More
January is a time of new beginnings and we have a new look at adr Business & Marketing Strategies. We launched a new logo a couple of weeks ago along with a website update, new business cards, brochures, etc.  I even got my car window updated to better explain what we do at adrBMS to help you, as a small business.
Sales and marketing can be overwhelming for any small business, especially, if you do not have sales and marketing personnel to devote time and resources to this part of your business.  Many companies have a very small budget or even zero budget of money and time set aside for their sales and marketing efforts and then wonder why they do not have more customers or clients.
What type of business you have and the prospects you have in your region for what you have to sell will dictate how much time and money is needed to acquire enough customers to stay in business, grow you business and meet your goals.
If you have a product or service that has the ability to create recurring sales such as a hair dresser, lawn care company, apartment complex, etc., then you can build a customer base where that group of customers who will purchase what you have for sale on a regular basis.  Depending upon how often those same customers will need your product or service will let you know how many recurring customers or clients that you will need to develop.
If you have a product or service that someone only needs once in their lifetime, once every few years, or occasional, then you will be looking for new customers or clients on a regular basis.
It takes much more time and money to develop a new customer than it does to re-sell to customers who have already purchased something from you.
People do business with those they like and trust so if someone has already purchased a product or service from you, that person liked you enough and trusted you enough at that time to make the sale.  If that person felt good about the sale and the product/service you provided, chances are that they will buy from you again.  Making sure that you have great customer service and do a good job that there are no mistakes or problems when making a sale will increase the odds that people will buy from you again.
If you gave them  WOW experience, they may share the experience with their family and friends (and even refer them to you).
The old rule of thumb is if someone is happy with their purchase, they will tell one person.  If they are unhappy, they will tell 25 people.  That's just how it is!
In small cities like Leeds, Moody, Odenville, Pell City, etc., there are many small businesses who really need more customers and do not have the resources to have someone on staff to help them with their sales or marketing.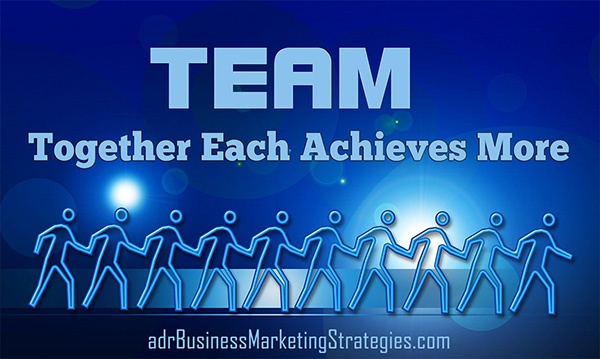 Many of you know that I am a big "business networker" and am a strong advocate for getting out in the community to be seen and heard.  I encourage each of you that own small businesses in the area (or work for small businesses in the area) to get out and participate in your communities more this year.  Your local Chamber of Commerce is a great place to start.  Show up at monthly Chamber lunches (come early to meet and greet).  If you or anyone on your staff has a little extra time, participate on some community projects.
Also, let's all work together.  As our relationships grow in the community, give a little.  BNI (Business Network International) calls it "Giver's Gain.  If you never give, except to receive something in return like keeping score, it will never work for you…BUT if you give freely without expecting something in return, eventually, things will turn around and you will be on the receiving end as much or more as what you give.
TEAM – Together Each Achieves More
I love this phrase:  Together Each Achieves More, because is spells TEAM and my goal is for us to develop a local TEAM of business professional that care about each other and want each other to succeed enough to give a little to support each other.  I will be explaining more about what this means in future blog posts, but for now, just think about it.  Let it soak in.  Let's brainstorm with each other on how this can be accomplished.
As January comes to a close, I look forward to what we are going to be able to achieve together.
I appreciate each of you who read and share my occasional posts.   2016 is going to be a fantastic year!
---
Dona Bonnett is a business and marketing coach and consultant who specializes in helping companies grow. For more information on how Dona can help your business grow, please visit her website at www.adrBusinessMarketingStrategies.com or contact her at 256.345.3993.